Just in case the reason du jour changes later, stocks are up after the weak open due to "strong data."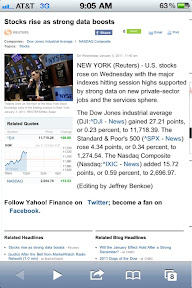 Specifically, strong jobs data.

The private sector added 297k jobs in December as our favorite lagging indicator is finally participating in the recovery.

The dollar is up, while bonds and commodities are down. Again, I think the money from bonds and gold will be going into stocks at some point. People love to chase performance when greed takes over!
***

What? No bowl game tonight???